Historically, faced with a downturn or adversity, the knee-jerk reaction is always to reduce/eliminate marketing investments, while taking a wait-and-see approach. Now, today is the right time to continue, ramp up, and possibly pivot your marketing activities.
No one has a crystal ball, but it would be foolish to assume that at some point in the near or distant future we will go back to 'business as usual'. There will be a #NewNormal. Just as life changed after 9/11, life will change after COVID-19. Without the proverbial crystal ball, we don't know what the New Normal will look like, but we know for certain there will be permanent change and the marketers that adapt now will have a head-start on the rest of the market.
Why will COVID-19 change the way we market to lawyers?
Because COVID-19 is the catalyst forcing lawyers to work remotely. We are facing weeks and potentially months of voluntary, enforced, and self-quarantine. This isn't a long weekend or a short vacation. For most lawyers, working remotely is new, and now that they will be forced to figure it out, we need to figure out how to continue communicating and delivering the new products and strategies that will help them succeed.
Social Distancing - Events and Face-to-face Marketing are Off the Table
It's the good news and the bad news! Many of us invest heavily in tradeshows, conferences, and face-to-face meetings. The good news is that many Q2 events have already been canceled or postponed, and we will likely see the same scenario for Q3 and beyond. Why is that good news? Think of the money you'll save by eliminating exhibitor fees, sponsorships, travel, and all the related event expenses.
But wait, what about the bad news? Saving money is great, but what about the lost opportunities of live events? Personal engagement and networking, educational presentations, demos, brand building, and business development opportunities are all eliminated in one fail swoop.
So now is not the time to bury your head in the sand, rather, it is the perfect time to evaluate your current marketing strategies. Give your business an internal check-up and figure out how you will replace those lost opportunities and continue helping your company grow and prosper through even these difficult times.
---
Tune Your Messaging
Lawyers in firms of all sizes will be learning how to function and serve their clients more independently. Technology and remote/virtual services can easily help legal professionals deliver quality services to their clients. From practice management to virtual receptionists to document automation, every practice can operate more efficiently with the right technology mix. But this isn't a time for heavy software learning or introducing new processes.
As attorneys are plunged, without notice, into remote work environments, products and services designed to assist in communication, organization, and collaboration will certainly come to the forefront. Does your messaging incorporate real solutions for today's real problems?
Avoid the 'work harder, not smarter' and the 'developed by attorneys, for attorneys' clichés. No one wants to hear that! What legal professionals want to hear is 'how can you help me provide better service to my clients, while I'm working from home?' Remember, lawyers and law firms don't want to be sold, they want to buy from trusted companies. Make certain your messaging fits current market conditions and builds those trusted relationships. Who knows, these conditions may be around for quite a while.
---
What Does #Success Look Like in the New Normal?
It's okay to briefly pause to evaluate where your company is going. Don't let fear of the unknown paralyze you into thinking you need to wait until this immediate crisis is over. We should be constantly evaluating market conditions and the benefits we can provide for our customers and their clients.
If you know what success looks like for your company, it will be clear what you need to do to get there. Every company has different goals, what are your 3-month, 6-month, and 12-month goals. How are you going to measure them? How will you know if you are succeeding?
If you're having trouble establishing your goals, or the metrics necessary to track your progress, seek the help of a professional that can provide guidance and recommend appropriate tools.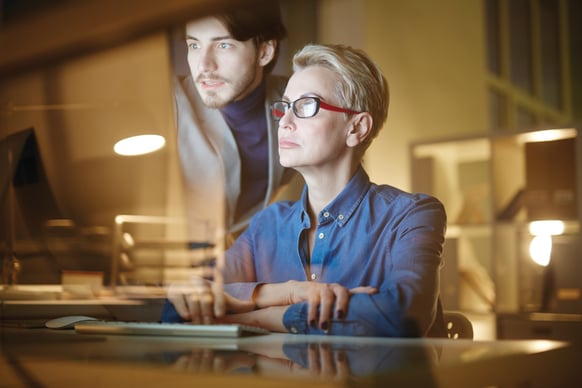 ---
Use Technology to Communicate with Your Prospects
Once you've established your Success, evaluate your technology stack, and identify whether you have or need nimble tools to power your communications. Just like your attorney clients, this is not the time for big investments with extended learning and implementation curves.
It's likely you and your team may already use some of these tools. Consider these, they are all relatively easy to use:
Professional Grade Email & Marketing Automation: HubSpot, Zoho, etc.
Online meetings: Zoom, GoToMeeting, etc.
Webinars: GoToWebinar, Zoom, etc.
Team Communications: Slack, Microsoft Teams, etc.
---
Thoughts on 'What' To Do
While others are stuck in 'wait and see' mode, using email to communicate with prospects and customers creates a new opportunity. More people working remotely more receptive to relevant, segmented, and personalized. Make sure your communications are perfect, grammatically and otherwise. No one wants to receive a mis-addressed email, or worse yet have their names misspelled.
Use this time to create thought leadership webinars, introduce team members (personalize your company), or create a series of virtual lunch and learns where you can gather a community and develop a friendly environment.
Send them something. Yes, snail mail…it works. A thoughtful small item, casually called 'lumpy mail' will be appreciated and a great way to keep your brand in front, plus you'll use up that swag you ordered for event season.
---
Help your sales team convert
Invest more time in developing content and marketing/sales alignment. Providing content helps your sales team be more productive. Take the time to discover what they need to support their efforts and shorten the sales cycle. Whitepapers, eBooks, and especially case studies are not just lead magnets, they will help close sales. And don't forget about CLE-approved webinars. As lawyers transition to more online learning, they will need those CLE credits to satisfy their requirements. Take an inventory of what you have and determine what you need to develop.
---
Now is the Best Time to Get Started
Lawyers and legal professionals have been thrust into a new working model. Even once everything goes back to 'normal', and who knows when that will be, some changes in the way they practice and run their businesses will become permanent. By continuing to market and adjust your messaging you are setting your company up for ongoing success and showing the legal community you are a serious participant.
Interested in more legal technology marketing content? Read more on the Legal Tech Media Group blog.