I imagine that relatively early in the development of Clio, Jack Newton and his team wisely realized that no matter how hard they tried, they wouldn't be able to solve every lawyer and law firm challenge with a single application. Frankly, it was a stroke of genius! Today, as we prepare for next week's 2019 Clio Cloud Conference, the wisdom of that decision will be on display.
With more than 150 different applications integrated using Clio's API, today's law firms can build a custom application stack that suits their specific needs. From productivity extensions to practice specific apps, Clio has not only made its software desirable, it has literally become a springboard for legal app developers to launch and expand their businesses.
Clio's App Directory is a well-organized marketplace that invites legal professionals to shop for solutions. And their internal sales team is well versed in these integrations and able to assist in application analysis. Here's just one example from the App Directory: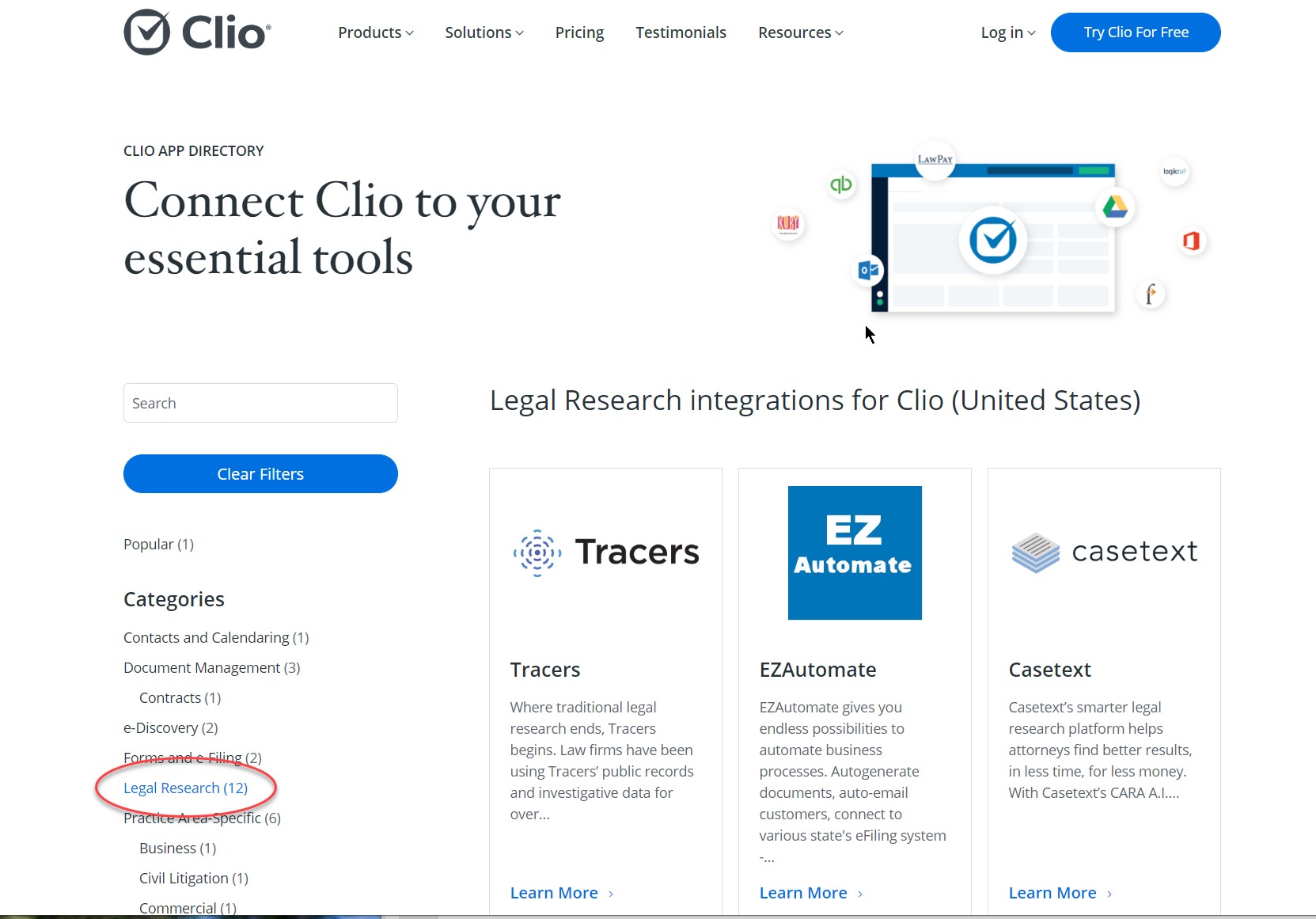 In the screenshot above, in the category Legal Research, Clio offers a dozen applications that solve a variety of needs for legal professionals. From low-cost case law to public records search these applications are not only available through the Clio platform, the information gathered from them can flow directly into Clio matter records.
While other practice management developers are focused on building out every possible client request, Clio has recognized that being the best at what you do means providing a well-rounded ecosystem to give their customers the choices they need.
Clio doesn't stop there
At the 2019 Clio Cloud Conference more than 50 integration partners will be participating and helping conference attendees improve their practices. The conference is heavily weighted with real-world advice designed to help Clio customers achieve their goals.
And Clio gives back to the developer community with its Launch//Code competition. The top five new integrations applications (as decided by a panel of judges) have the opportunity to pitch their products to a large audience of attendees and media, and then the winner is awarded a $100,000 check.
Stay tuned! LTMG, Events.Legal and Lex Tech Review will be covering this industry-leading event.